Welcome to Highclare School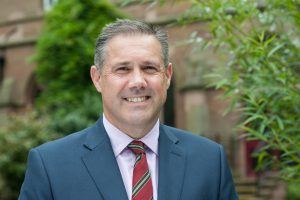 On behalf of everyone at Highclare School, I extend a warm welcome to you. I do hope you are quickly able to discover what is going on in our vibrant community, whether it be pre-school, infants, juniors, seniors or sixth form.
We are immensely proud of what we do and what we achieve, which I hope is signalled strongly to you in all that you see, read and hear about us.  Because of superb teaching, delivered in well-resourced settings and in the context of small class sizes, together with a strong extra and co curriculum, a Highclare pupil will develop the life-long, independent learning skills that allow him / her to not only fulfil their academic potential but also to have the emotional and spiritual intelligence and capability to go on and do extraordinary things.
Underpinning all that we do is a nurturing and supportive pastoral commitment based on our unshakeable belief that a boy or girl who is happy is much more likely to be an effective learner and a contented and giving member of our school community.
Do come along to see whether we are the friendly, welcoming and professional school that we believe ourselves to be.
Contact Admissions to arrange the next step; they will be delighted to help.
My team and I look forward to welcoming you to any of our three superb schools and answering your questions about Highclare and about your child's education.
Dr Richard Luker
Headmaster