Dear children and young people,
Well, it's very nearly half-term and I know that you will be looking forward to a week's break from School. I sincerely hope that you are all able to have a really good rest and that you manage to enjoy yourselves – despite lockdown still being in place. It would be great, wouldn't it, if we had lots of snow and you could get out to your local parks for a spot of sledging? However, whatever you manage to do to relax, I hope you have a lovely and well-earned (Zoom-free) holiday.
No doubt, dear Mr Moore and I will be returning to our favourite haunts in Sutton Park as I have purchased a very good pair of binoculars and have made it my mission to see if we can spot the elusive Montjac deer that we encountered on one of our earlier walks in the park. These timid little creatures are very difficult to find, however, and they can be mistaken for large dogs because of their colouring and size. Here is a picture of one that was spotted recently in Sutton Park (just in case you want to join in the search):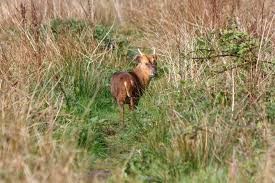 I'm also determined to find the heron again as it seems to have forsaken its normal spot at Little Bracebridge Pool – unless you know different? During the first lockdown in March/April last year, we often saw this magnificent bird with its huge wingspan, sweeping over the pool to its home in the reeds. It is quite majestic in flight and reminds me of a prehistoric Pterodactyl – see below: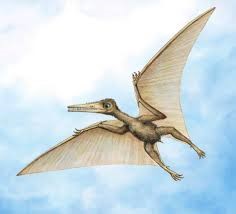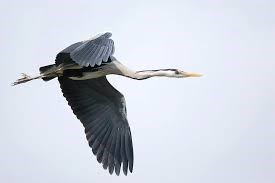 Well, maybe not – what do you think? Anyway, it is a beautiful bird to behold and I sincerely hope that it makes an appearance during our walks in Sutton Park over half-term.
Dear Mr Moore and I also love finding those little white triangular information plaques that tell us about the ancient history of the park. I love to hear about ancient history (no – not just because I'm pretty ancient myself!) When I read about the Bronze Age baths in the park I can almost imagine our ancient ancestors huddled together to keep themselves warm. These sites are thought to be the remains of steam or sauna bathing where hot stones were used to produce steam and boiling water for cooking and bathing. The park must also have been quite a dangerous place to bathe in during the Bronze Age because of the terrifying animals that must have roamed the forests then such as wild boar and wolves.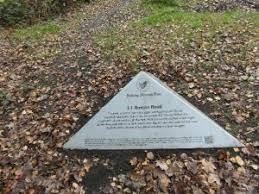 Another thing I am really looking forward to during half-term is Pancake Day! I adore making (and eating) pancakes, particularly when smothered with maple syrup! One of my most wonderful memories from my childhood is of my dear mum whipping up huge batches of pancakes in our little kitchen in Northern Ireland. I remember how, on pancake days, our kitchen would be full of the smell of slightly burnt butter and cloudy from the billowing mists of flour which filled the room and covered the table, chairs (and us) as we waited patiently (and hungrily) for mum to produce a satisfactory batch. Poor mum was not the most accomplished chef when it came to pancake making (although she was fab at Sunday dinners and bread making) as she always either burnt the first few attempts, made them much too thick and difficult to digest or dropped them during the flip over stage! However – usually by the third batch – those perfect golden orbs would arrive at the table covered in melting Irish butter and lashings of golden syrup (our local village shop did not run to stocking maple syrup – not sure it had even been heard of then actually). The taste of those pancakes was absolutely wonderful and even now, the smell of slightly burning pancakes and the taste of that golden nectar (Tate & Lyle syrup) is enough to send me right back to those chaotic but wonderful days of childhood.   My own first attempts, I must confess, were very similar to my dear mum's as making a good pancake is not as easy as you might think. However, after years of making them for my own children, I am happy to report that I make a very mean pancake these days. Here's a little poem about pancakes: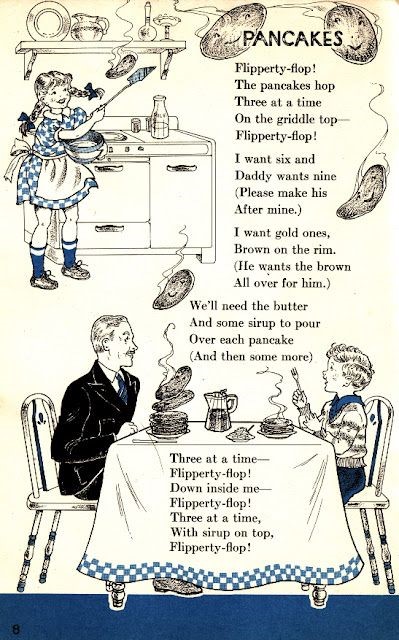 I'm sure Mrs Smith has some wonderful pancake recipes – so why not email her and ask?   But here's my recipe for you to have a go at:
Mrs Moore's Traditional Irish Pancakes (makes enough for 4 people in a normal house – we always ended up making two batches though (to allow for accidents!)
Ingredients
150 g Plain White Flour
300 ml Whole Milk (we used buttermilk in Ireland)
1 medium Egg
1 tbsp Irish Salted Butter
Pinch of Salt
Instructions
Sift the flour into a large bowl and add the pinch of salt
Make a well in the centre of the flour and add the egg, melted butter and 3/4 of the milk.  Gradually begin to whisk in the flour from the outside to prevent lumps forming (very important!) Whisk until all liquid is incorporated then add the remaining milk and whisk to combine to the required thickness of pouring cream.
Pour into a jug and allow it to rest for 30 minutes before using. Alternatively leave in the bowl and cover and allow rest.  You can then use a ladle to pour the correct amount into the pan.(I just use the jug as it's easier)
To cook the pancakes you must heat a heavy based frying pan until hot then turn the temperature down to medium (try and avoid burning the butter!)
Lightly grease the pan with butter or oil then pour in the required amount to coat the base of the frying pan.  Tilt the pan around to ensure the batter coats the pan.
Cook over a moderate heat for 2 to 3 minutes lifting with a spatula to check to see if it is done.  Using a spatula turn the pancake over or alternative show off your skills by attempting to flip the pancake in the air. (warning pancake will be hot and flip at your own risk)
Cook the other side and cook for another minute or two.  Check with a spatula by lifting an edge to see if it is done.
Move pancake onto a warm plate and place in a warm oven while you cook the remaining pancakes or, serve them as they are cooked.
Serve with a sprinkle of sugar and squeeze of lemon juice or slosh all over with syrup or dollops of Nutella! Enjoy!
Pictures please! See if your pancakes turn out better than mine!
Another event taking place shortly (for all you romantics out there) is Valentine's Day! How exciting! I remember receiving lovely cards from anonymous admirers back in the day (way back in the day…) so who was St Valentine and how long have we been celebrating this special day? Well…
Valentine's Day, or St Valentine's Day, is celebrated every year on 14 February (this Sunday!)
It's the day when people show their affection for another person or people by sending cards, flowers or chocolates with messages of love. Dear Mr Moore always gets me some flowers and he always sends our daughter a card and flowers too (he's been doing this since she was 5 years old – even though she's got a Valentine of her own now – her lovely husband, Jason!)
The first Valentine I received was when I was about 10 years old. A boy on our school bus (not a very polite one – the boy not the bus) threw a half-eaten bar of Cadbury's milk chocolate at me attached to which was a card which read:
'Roses are red, violets are blue I ate half the chocolate but left some for you!'
Not a very romantic moment I grant you, as the chocolate was not only half-eaten and melting, but it also hit me quite hard on the back of the head!
So who was St Valentine?
The popular belief about St Valentine is that he was a Roman priest who lived in the third century AD. At that time, Emperor Claudius II had banned marriage because he thought married men made bad soldiers. Valentine felt this was unfair, so he decided to break the rules and began arranging marriages in secret (a dangerous thing to do in those days as Roman Emperors did not take too kindly to people who broke their rules! When Claudius found out, Valentine was thrown into jail and sentenced to death. However, whilst in jail, Valentine fell in love with the jailer's daughter and when he was taken to be killed on 14 February he sent her a love letter signed "from your Valentine" – aww (how sad and romantic!)
Anyway, the tradition grew and really came into its own during the Victorian era – here are some beautiful examples: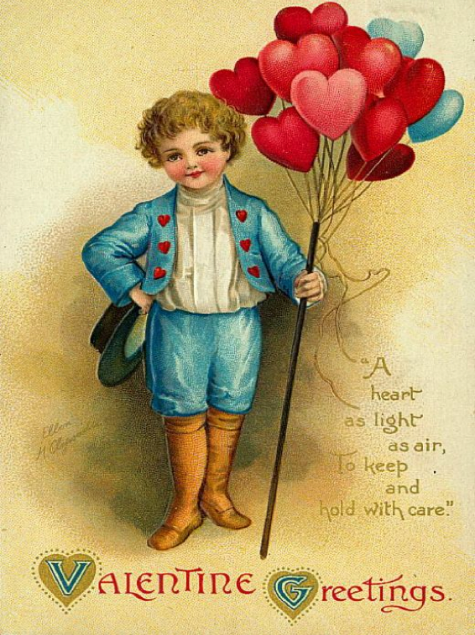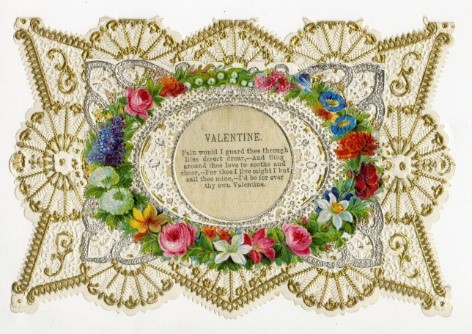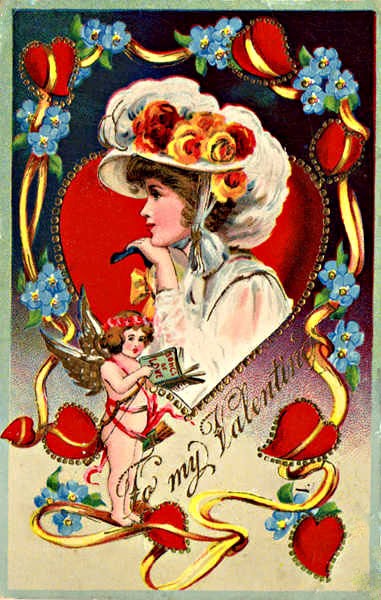 Anyway, there is so much to look forward to dear Children and young people so never forget that. It's February now, but soon it will be spring and we'll be back at school and getting back to normal – so let's like Janus (the god who gave his name to the month of January) look forwards to better days ahead!
Mrs Palmer's assembly for KS3 today was all about beauty and how being kind to each other and to ourselves can make us feel beautiful. Mrs Palmer talked about how we don't really celebrate how beautiful we all really are. She showed a video in which women were asked to describe themselves to an artist who then made a sketch of them (without seeing them for himself). The same artist then asked a friend of each woman to describe her to him. The two pictures were very different to each other as each of the friends described the loveliness of the women without dwelling on their tiny faults as the women themselves did. I truly believe that it is the kindness of other people that brings out the beauty in us and the kindess that we bestow on others in return that makes us feel happy and blessed.
Emily Dickinson, a wonderful American poet wrote the following:
These beautiful but very simple lines convey how powerful random acts of kindness can be in a world that can sometimes seem cruel and sad.
Anyway, dear children and young people, I want you to always remember that you are special and you are loved. I want you to remember that things will get back to normal again soon and this past eleven months or so will become history. You are the children who will one day tell your children and grandchildren about how you lived through the Covid-19 pandemic of 2020/21. You will look back on these days of lockdown and isolation and remember how, despite all the difficulties we faced, it was a time when the little things which may not in the past have meant so much to us, became more special. Simple things like walks in the park or woods and listening to the birdsong; building snowmen; fishing (I know someone who loves fishing), making pancakes and spending time with your lovely families will eventually become beautiful memories of a time when the world might have been different and strange, but yet somehow wonderful too.
BIRTHDAY GREETINGS TIME!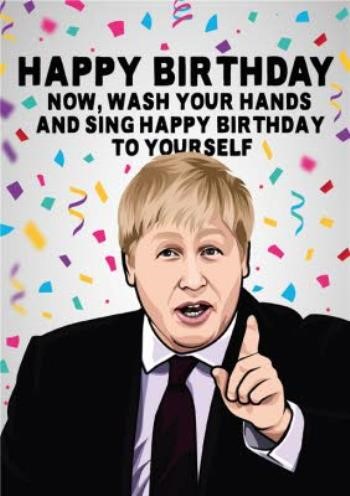 Happy birthday to Alex Ollerenshaw in U3 who is celebrating his birthday today the 11th February!
Birthday greetings to be celebrated later in the month also go to Gracious, Ruvarashe and Haafizah on the 19th February and to Thomas Hall on 21st, Sini Adebayo on 22nd, Mandy Paul on 23rd and Jade Webster-Lowndes on 24th February. I hope you all have a wonderful day!
As always, remember to be kind to yourself and to others and have a simply spiffing and well-earned half-term break!! I leave you with the words of Pooh bear: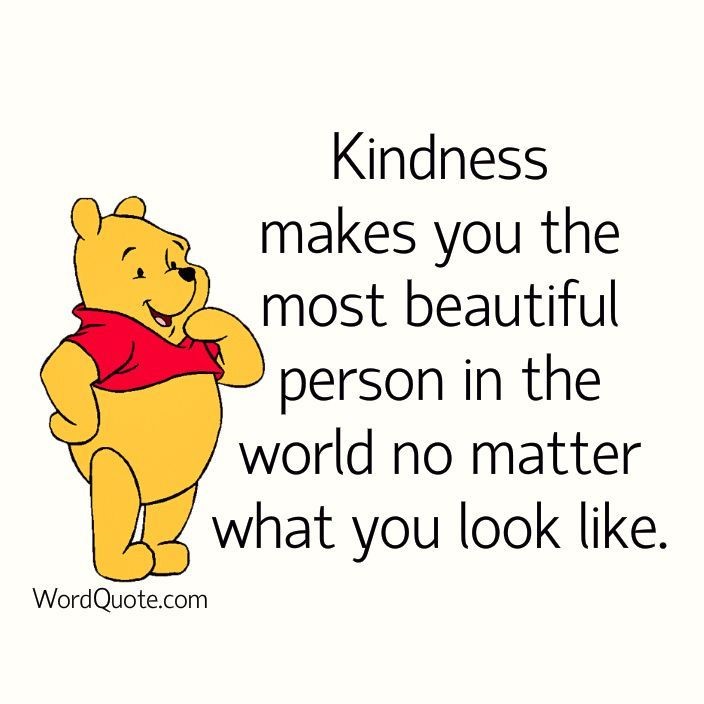 Love and best wishes
Mrs M