Dear children and young people,
Welcome to the weekend edition of my memo and I hope you have had a lovely week – despite this awful weather. I was pondering what to write about today as Mr Moore and I haven't been able to get out for our usual long walk in the park for two reasons. No. 1 – I've been back at the Abbey this week, working from my office and overseeing the groups of L5 and L6 pupils who have been coming in for some 'face to face' time with their teachers and No.2 – the weather has been dreadful and my hair looks bad enough without it getting soaked as well. Poor Mr Moore has been doing his best to encourage me to face the elements, but I'm afraid he's had little joy so far! I have, however, been getting in my usual 10,000 steps nearly every day this week because I've been running up and down stairs and along the corridors in School! So, I'm pleased to confirm that fish and chips will be on the menu!
Talking about awful weather and rain in particular, I started thinking about wellington boots for some bizarre reason. Anyway, that led me to think about the Duke of Wellington and that in turn led me to think about the Battle of Waterloo (I know my mind works in peculiar ways – yours will too when you get to my age!) and, yesterday just happened to be the anniversary of the Battle of Waterloo which took place on 18th June 1815. Did you know that it is the Duke of Wellington who we have to thank for naming the wonderful wellies, which have come in so handy this week? The wellington boot is associated with Arthur Wellesley, the first Duke of Wellington, (aka the Iron Duke) (1769-1852) who instructed his shoemaker, George Hoby of St. James' Street, London, to modify the Hessian 18th century boot, which was normally worn back in the day, and make it in leather instead.
Political cartoonists used the Duke's boots and his prominent nose to represent him (how rude!). By 1830, he was being depicted simply as a Wellington boot with a head (with a rather large nose). Wellingtons remained fashionable until the Duke's death in 1853. Nonetheless, they continued to be worn by senior officers in the British Army during the Crimean and First World Wars. See the cartoon below: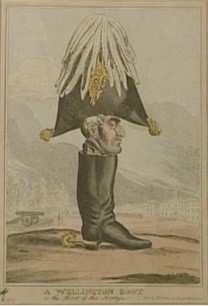 A caricature (look it up) of Wellington
Meanwhile in 1856, the Edinburgh-based North British Rubber Company had started manufacturing Britain's first rubber or 'gum' boots, cashing in on the fact that the battle of Waterloo was still at the forefront of people's minds. These new boots soon got renamed 'Wellingtons' and we've been splashing about in them ever since! However, their popularity did not become widespread until WW1 when the company were requested to produce millions of pairs for the soldiers on the front to prevent the awful ailment called 'trench foot' which was caused by prolonged exposure to rain and damp mud.
I then thought about other words for the wellington boot and 'gum boot' came to mind. ''Where on earth did that come from, Mrs Moore?'(I hear you say) Well, the name started way back with the Egyptian word kemai, which later became kommi in Greek, which in turn became gummi in Latin, which finally became gum (which is another word for rubber) in English. So, there you have it!
Thinking about wellington boots, I then remembered dear old Paddington bear. I bought my Paddington Bear in a posh shop in London called Hamleys. He is a little threadbare now and his duffle coat has lost its colour somewhat, but he is still much loved and cuddled. Here is a picture of him in his prime: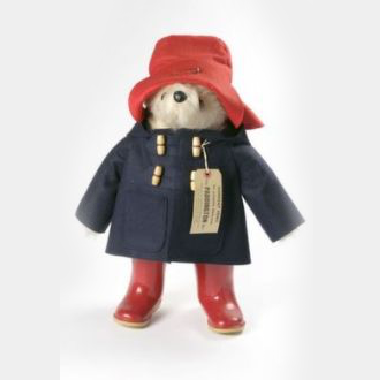 The author, Michael Bond, wrote the stories of 'A Bear Called Paddington', but did you know that his original bear did not possess a pair of wellingtons? See below for proof of this: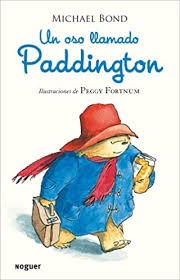 The original Paddington was bearfoot (get it?) barefoot? However, I bet you didn't know who was responsible for adding the wellies!
Well, you'll never believe this but it was Jeremy Clarkson of 'Top Gear' fame's parents! A Paddington soft toy was released in 1972 (yes, I bought mine in the 70s and yes, I am that ancient) and the first one was owned by Jeremy as a child. It is a little-known fact that the Clarkson family designed his famous Wellington boots and although they didn't appear in Bond's original book – it was mentioned that the bear received some boots for Christmas in Bond's 1964 book, 'Paddington Marches On.'
Clarkson's mother and father ran a design business called Gabrielle Designs in the 1970s. Mrs Clarkson made the first Paddington Bear soft toy in 1971, giving it to Jeremy and his sister, Joanna for Christmas that year.
Legend has it that the toy bear kept falling over, so eventually, the Clarksons decided to put him in sturdy Wellington boots so that he could stand up – hence the famous boots were created!
I then started to think about rain again and remembered that I have left my umbrella at home and it's pouring down! 'Umbrella' is quite a weird word don't you think? Curiosity then got the better of me and I had to find out where the word 'umbrella' came from. So, here are some interesting facts about the dear old 'brolly':
Apparently, the word 'umbrella' comes from the Latin word 'umbra' meaning shadow. The umbrella became very popular in the 16th century – especially in the rainy climates of northern Europe. At first, only women used them, but then the Persian traveller Jonas Hanway (1712-86) (who was the Indiana Jones of his day), started carrying and using an umbrella in public in England. The umbrella then became very popular with English gentlemen who often referred to it as a 'Hanway'. There are many myths and superstitions surrounding the dear old brolly one of which emanates from ancient Egypt. Apparently, posh Egyptians were protected from the sun (not the rain) with umbrellas made of papyrus and feathers. Because they were designed to look like the goddess who formed the sky, their shadow or shade was deemed sacred. Anyone who allowed the shade of a royal umbrella to fall upon them had to be royalty otherwise they were considered to be jinxed and probably came to a very grizzley end!
I found myself getting rather peckish whilst writing this memo, so I got my lovely cheese and pickle sandwich out (which was yummy btw), but as I ate it, I got to thinking about how the sandwich got its name (English teachers do things like this)!
Well, apparently it took its name from Englishman John Montagu, the 4th Earl of Sandwich, who was born in 1718 and died in 1792. Although we can't be totally sure about how he invented this delicacy, the consensus is that the Earl, who had a terrible addiction to gambling and card games in particular, often was known to eat meat and bread during long sessions at the card table. Apparently, he used to wrap the bread around the meat to avoid the cards getting greasy. This then caught on amongst his gambling buddies and they would ask the waiter to bring them 'the same as sandwich' which eventually became shortened to 'bring me a sandwich'. So think about that when you're lucky enough (once lockdown ends) to be in a Subway store enjoying a footlong sub!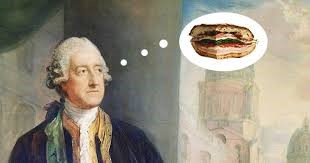 Here is the Earl – imagining his sandwich
A final thought – imagine, if it was Wellington who was the gambler and Sandwich who beat Napolean at Waterloo – we would probably be wearing sandwiches and eating wellingtons today!
Before I forget – Happy birthday greetings go to Yuvvy Atwal and David Sanyanga who both turn 12 on 19th June! And to Harry Gomm and Matthew Moring who turn 12 and 16 respectively on Sunday 21st. Happy birthday boys and have a wonderful day!
Anyway, that's it for me for another day, but I want you to remember (going back to rainy days and umbrellas) :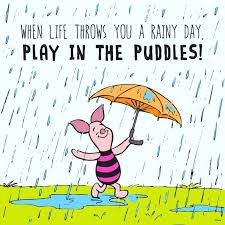 You are brave, you are strong, you are kind so never forget to shine! The sun will come out again and all will be well again. Remember that every cloud has a silver lining and dreams really can come true!
Love and best wishes to you all,
Mrs M 