Highclare Pre-Preparatory School is always a happy, busy and vibrant learning environment, and Easter proved to be no different.
On the last day of term parents and grandparents enjoyed the Cygnets' and Swans' Easter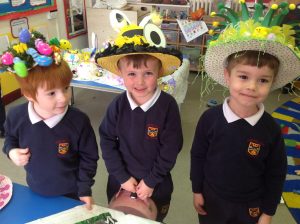 Bonnet Parade.  The children looked very proud of their wonderful Easter bonnets.  They paraded in the hall and sang "chick, chick, chick, chick, chicken" with actions. Mr Gordon also enjoyed seeing the parade and thanked parents for their efforts helping the children create their bonnets.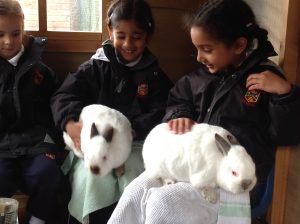 The children thoroughly enjoyed meeting Peppermint and Hovis.  The rabbits were well behaved and the children thought they were very soft.  The rabbits told the Easter Bunny how wonderful our Swans are and he telephoned the next day to inform them he had visited our Woodland Area ….!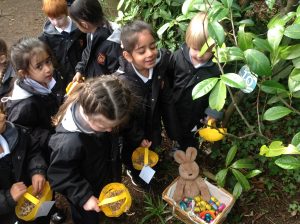 Following on from a phone call from the Easter Bunny the children went into the woodlands with the baskets they had made to follow a trail of footprints and numbers.  Eventually they found a basket of treats left for them by the Easter Bunny.