Students across the Senior School have been busy putting pen to paper following the launch of the Spring 2019 House Poetry Competition.
Instigated by the English department the theme for 2018/2019 was 'change' and entries received were all of a superb standard.
After much deliberation, we would like to congratulate Maariya Hussain, for achieving first place with her wonderful poem which can be found below.  Congratulations to all winners and highly commended pupils, it is a great achievement.
House competitions are designed to provide pupils with a sense of belonging within the school community and an opportunity to develop skills outside of the classroom.  We are very proud of all of the pupils who regularly contribute to our wonderful school community by entering the house competitions with such high standards of work.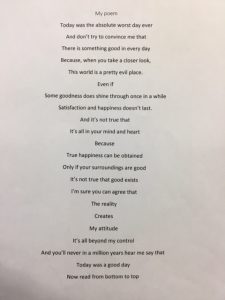 House Poetry Competition Spring 2019 Winners
1st: Maariya Hussain, Lancaster
2nd: Eva Robinson, Tudor
3rd: Asim Chaudhry, Tudor
Highly Commended
Christian Kalavanas
Sarah Howe
Nanette Moyo
Megan Lozneanu
Harry Abbott
Joseph Abbott
Chelsea Cao
Alice Griffiths
Davina Bodhani
Peter Iriabe
Darcie Walsh
Megha Bodhani
Lina Bouden
Maddie Ealing
Malakai Florey-Meah
Summer Kang
Sophia Jamil