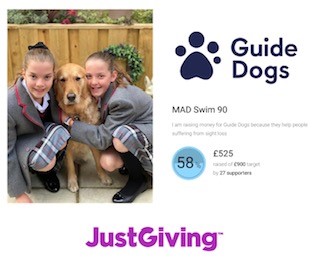 Madison and Daisey have been doing a bit of fund raising over half term!
The girls set themselves a challenge to swim 90 lengths (1.2 miles) without rest to attempt to raise £900 to celebrate the 90th Anniversary of Guide Dogs.
The event was officiated and verified by Tom Pratt, Head coach from Total Swim skills and they are currently at 58% of their target with donations still to come in from family and friends.
The photo shows the girls with our Guide Dog Brood Ursula who is planned to have more guide dogs puppies in Dec/January.