Good morning, Prep School family,
It is Friday! Whoop, whoop!
That is another week gone by! I cannot believe how fast these weeks are going. Do you have anything exciting planned for the weekend? Don't forget it is Father's Day on Sunday so you need to make sure that you spoil your daddies, step-dads, grandads and uncles on that day! Let them know how special they are to you! We are going to see Mr Bennett's dad on Sunday morning and then my dad on Sunday afternoon. I am going to cook my dad a meal and hopeful, its dry enough that we can eat it in the garden! My dad also loves cake, so if I get chance I am going to make him an orange and rhubarb cake as well.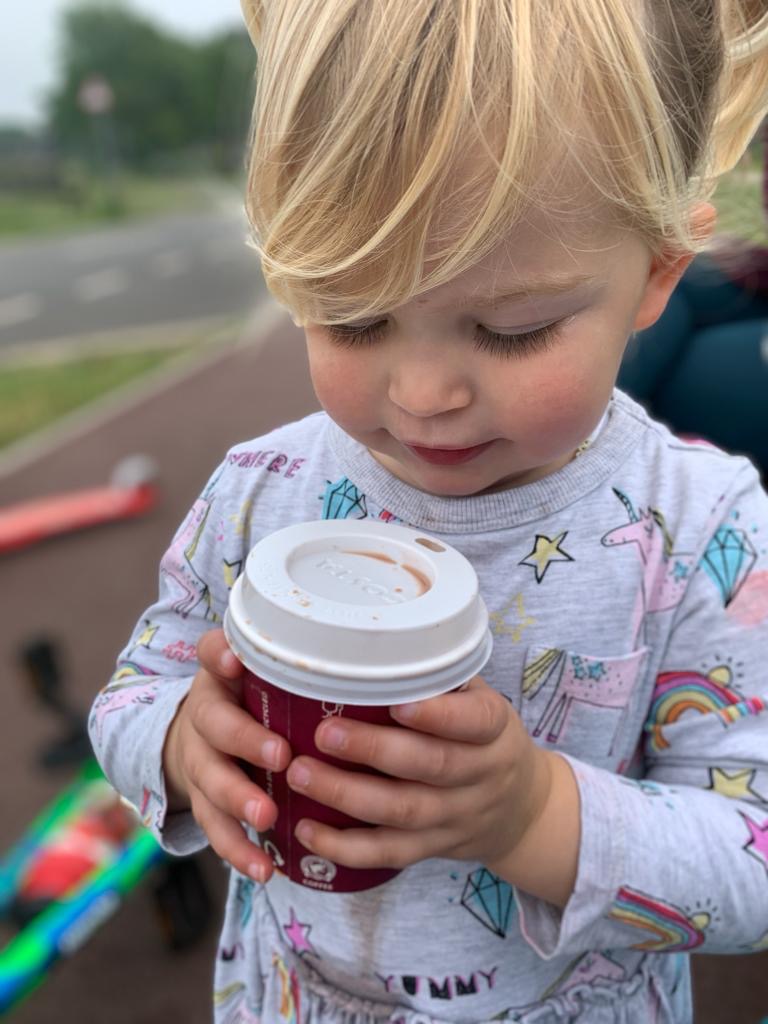 Apart from that, I am going to be getting some work done for Prize Giving, seeing some friends for a BBQ on Saturday (fingers crossed it stays dry) and tackling the ever-growing mountain of ironing! I will no doubt see my niece and nephew as well for a socially distance walk. I had a picture sent through to me earlier in the week form my sister in law. I have attached it for you to see as it seems the love I have for Costa coffee is running in the family! Don't worry, Amelie hasn't got coffee, it's a babychino! Also other types of coffee shops are available, just none that are as conveniently situated on my drive to work!
As promised, here is today's short story for you:
In a faraway village, lives a hardworking farmer who has grape fields. Year after year his grapery gives a rich harvest, and the farmer becomes very successful. He has three sons, who are young and energetic but never bother to work. As the farmer grows old, he begins to worry about his sons' future.
Then he falls very ill and realises his death is fast approaching. He calls the sons and tells them,
"Dear sons, I see my death nearing me, but before I bid goodbye to all of you, I want to share a secret. There is a treasure hidden under the fields. Dig the entire field after my death, to find it."
The old farmer dies, and his sons perform the last rites. The sons begin to dig for the treasure without leaving any part of the field but find nothing. However, their digging of the field leads to a healthy crop and results in huge earnings. These earnings make the sons realise what their father meant.
The meaning? Hard work always pays off. Fruits of hard work are always sweet whether or not they are in the form you thought they would be or the way you desire them. Never underestimate the value of hard work.
Life skill of the day: Can you water all of your indoor plants? I don't think the outdoor ones need watering this week, do you!
Day of the year themes: 'Garfield The Cat Day', 'Enjoy Your Lunch Break Day', 'Martini Day' and 'Sauntering Day'.
Here are the weekends themes as well:
Saturday – 'Ice Cream Soda Day', 'Surf Day', 'Kouign Amann Day', 'Vanilla Milkshake Day', 'World Refugee Day', 'World Productivity Day' and 'American Eagle Day'.
Sunday –today is a very busy day – 'World Music Day', 'Optimism Day', 'Boxcart Bash Day', 'World Motorcycle Day', 'Peaches And Cream Day', 'World Giraffe Day', 'International Yoga Day'. 'Make Music Day', 'Selfie Day', 'Love Turkey Day', 'Daylight Appreciation Day' and 'Go Skateboarding Day'.
I would love to see some photos of you embracing some of these themes!
Thunk of the day: Remember, Thunks are unusual questions that are designed to make you think. There are no right or wrong answers -just your answer. The only rule is that you must be able to justify and explain your answer. You cannot just say the first thing that comes into your head. Really think about the question and discuss with your family!
Question: My granny has had her broom for 40 years. In that time, it has had 19 new heads and 12 new handles. Is it still the same broom?
TOPS activity of the week: This is the last week of the two-week task. . .
Can you think of the seven continents of the world and identify a major landmark from each e.g. Europe – Buckingham Palace. Can you then recreate these landmarks? You could bake them, make out of Lego, paint, dress up as them, make out of toilet rolls. . . use your imagination, there are many house point on offer for anyone that can achieve this!
It can be an individual or a family effort. I would love to see these photos once you have done and I will share on social media!
Quote of the Day: "Stay close to people who feel like sunshine."
Joyous June calendar weekend tasks:
Friday: Create a list of your favourite memories that you are grateful for.
Saturday: Make some time to do something playful today, just for the fun of it.
Sunday: Enjoy trying a new recipe or cooking your favourite food.
Sleeps til Santa: 188
Have a wonderful weekend,
Stay safe,
Mrs Bennett 😊