Dear Children and young people,
Well, I hope you all had a lovely long Bank holiday weekend and that you enjoyed taking part in the Highclare Hike! I certainly did – although I wasn't too keen on walking far yesterday as it suddenly turned very cold and cloudy. Nevertheless, Mr Moore persuaded me to go for another long walk in Sutton Park and I'm really glad that he did – otherwise I would have been disappointed in myself – plus I need the exercise if I'm to have my Friday night treat!
I really enjoyed seeing all the photos of you and your families on Facebook and it was really fun to see so many of your teachers going the extra mile with their families too! Well done on your endeavours – I'm very proud of you all.
I wonder if your street held a VE day party. Our little street did and I was very impressed with all the bunting and flags that were on display. We had tea and scones together at 4pm (socially distanced of course) followed by the message from the Queen at 9pm and a singalong of 'We'll Meet Again' – I found it quite moving and emotional as, although the song was written during WW2 and became a much loved anthem for the armed forces and their families, giving them hope in a time of terrible conflict, it rang true to me as well as I am so missing seeing my own family. It was wonderful to sing with all our neighbours – some of whom we haven't even met before!
I took my kite to the park again yesterday too because the wind was wild and very kite-worthy. I didn't fly it for long though because the wind was freezing and I couldn't wait to get home and sit by the fire. I took the kite with me to St Paul's today as I was helping with the children of key workers and they really enjoyed flying it – perfect kite weather again today!
Here's a pic of me flying my kite yesterday: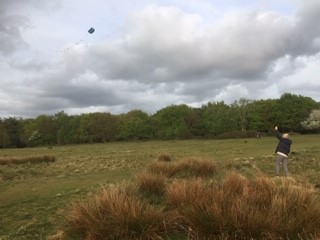 I'm really impressed with all the work you are producing and your teachers are keeping me up-to-date with how you are getting on. I know it's not the same as being face to face with each of your teachers, but they are working hard to ensure that you don't fall behind and that you continue to progress in your studies. I know, however, that some of you are not putting the effort in that you should be, so please do your best to respond to your teachers and ensure that you catch up with any missed work and attend the zoom lessons that have been scheduled for you. I will be doing some study skills sessions via Zoom to the U5 next week and I know that they have begun attending the A level bridging lessons that are being presented by the Sixth Form teachers. I hope you are enjoying these lessons, U5, and that they will help you to make your mind up about the subjects you want to study at A level.
Interesting facts about 11th and 12th May (apart from it being Anya's and Sydney's birthdays on the 12th)
Today (11th May) is national 'Eat what you Want Day'. It's also the anniversary of the day that Einstein first presented his Theory of Relativity in 1916. Tomorrow is the anniversary in 1792 when the flush toilet was apparently invented – here's a picture of the proto-type: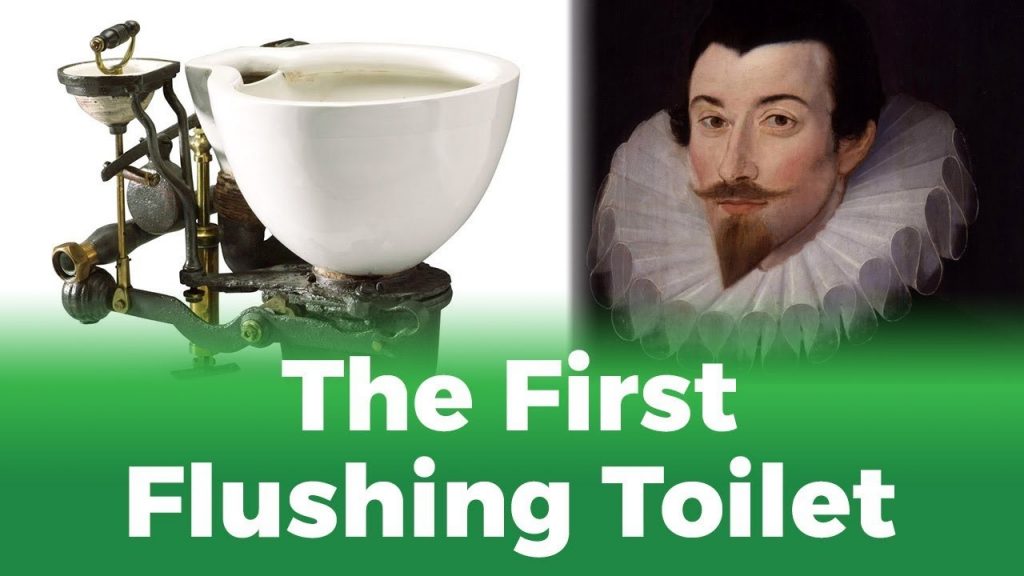 I must say, it doesn't look very comfortable!
On May 12th 1949 George VI was crowned king at Westminster Abbey following the abdication of his brother, Edward VIII. King George reigned until his death in 1952. He was succeeded by his daughter, Elizabeth, our Queen. Also, the very famous nurse, Florence Nightingale was born on 12th May 1820. She was born in Florence, Italy – hence the name Florence – it's a good job she wasn't born in Scunthorpe! Sorry for the poor joke. Anyway, Florence volunteered to aid the British troops in Turkey during the Crimean war where she improved hospital sanitary conditions and greatly reduced the death rate for wounded and sick soldiers.
Talking about Florence Nightingale – another wonderful nurse who didn't ever get the same high profile was called Mary Seacole. This is turning into another History lesson I hear you cry! Anyway, here's some information about Mary Seacole:
MARY SEACOLE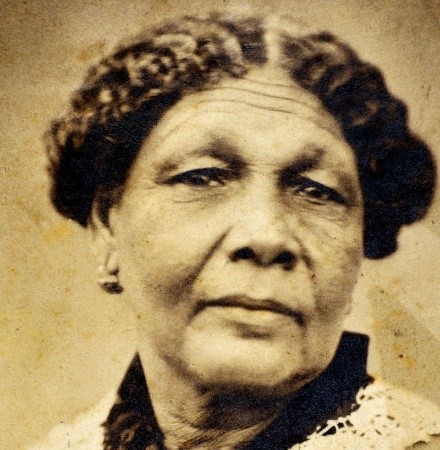 Mary Seacole was born in 1805 in Jamaica. Her mother was of African heritage and her father was a Scottish army officer. She was a 'doctress' who practised Creole or Afro-Caribbean medicine and learnt nursing and herbalism from her mother. In September 1854, Mary heard about the Crimean campaign and she was struck with the thought of looking after the troops she had known in Jamaica. She travelled to the Crimea and set up her own business, the British Hotel, which was a general store and also a place where soldiers could come to be nursed. She also rode out to the battlefield to nurse soldiers and would perform operations. She was affectionately known by the troops as Mother Seacole, because of the care she gave them. After returning to London after the war Mary wrote her autobiography The Wonderful Adventures of Mrs Seacole in Many Lands, which was published in 1857 and is still in print today. She continued to practice as a 'doctress' in London and when visiting Jamaica. She died in 1881 and was buried in the Catholic Cemetery at Kensal Rise.
She was determined to do her bit and look after the troops, but wasn't given the same preferential treatment as Florence Nightingale – although she is recognised today as being one of the unsung heroines of history.
One of my favourite poets, John Agard (Playwright, poet, short story and children's writer) was born on 21 June 1949 in British Guiana (now Guyana). He wrote a poem called 'Checking out me history' which was written in the Creole or 'pidgin English' dialect. He was making the point that we tend to teach our children about famous white people in history and never really tell the stories of their black counterparts. Anyway, this poem mentions Mary Seacole in the final stanza. I'm attaching a copy of the poem and also a link to John Agard reading the poem (which is really, really (honestly) worth listening to). I saw him perform live on many occasions at 'Poetry Live' and he always brought the house down when he came on stage – all the young people loved watching him perform – he literally brought poetry to life and I hope you enjoy listening to him.

Let me know what you think.
Here's a picture and some more information on John :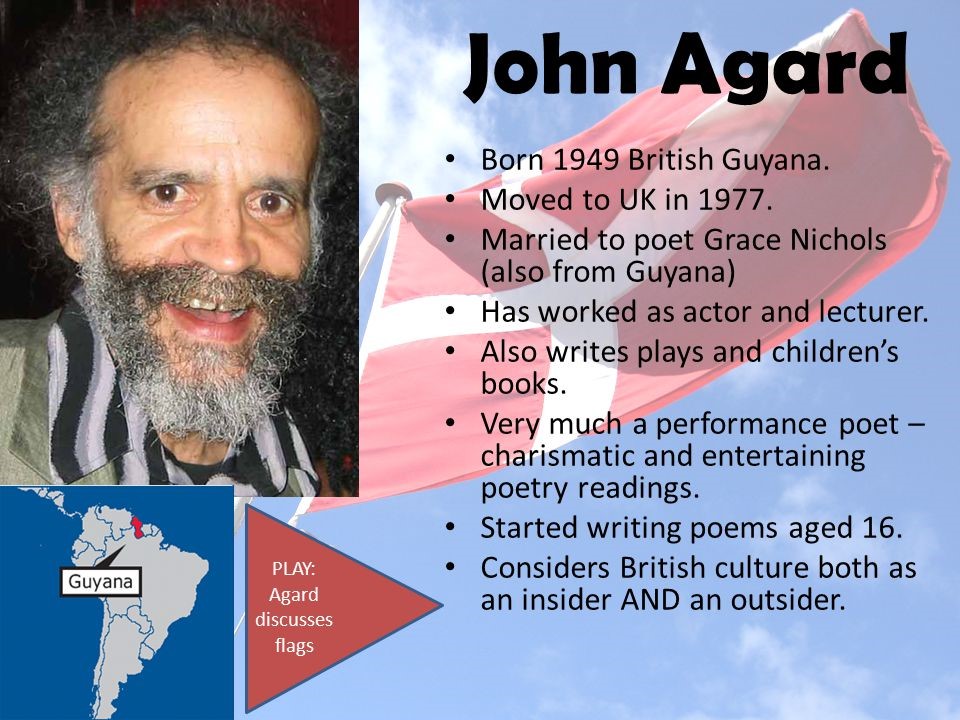 Anyway, I've rambled on a little today, but I absolutely love John Agard's poetry and if you get the chance, I'd like you to see if you can find some more of his poems to read.
I'm off now to go on yet another long walk in the park and, hopefully, see the deer again or at least the Exmoor ponies.
I hope you all had a lovely Monday and I'll be back in touch again shortly.
Remember, stay safe and well, work hard and get lots of rest. Hopefully, we'll be back in school in the not too distant future, but until that wonderful day arrives, I want you all to remember to help out at home and let me know how you're getting on. Remember also to get in touch if you need to talk to me or any one of your teachers, we're always here to listen if you need us.
Love and best wishes
Mrs M