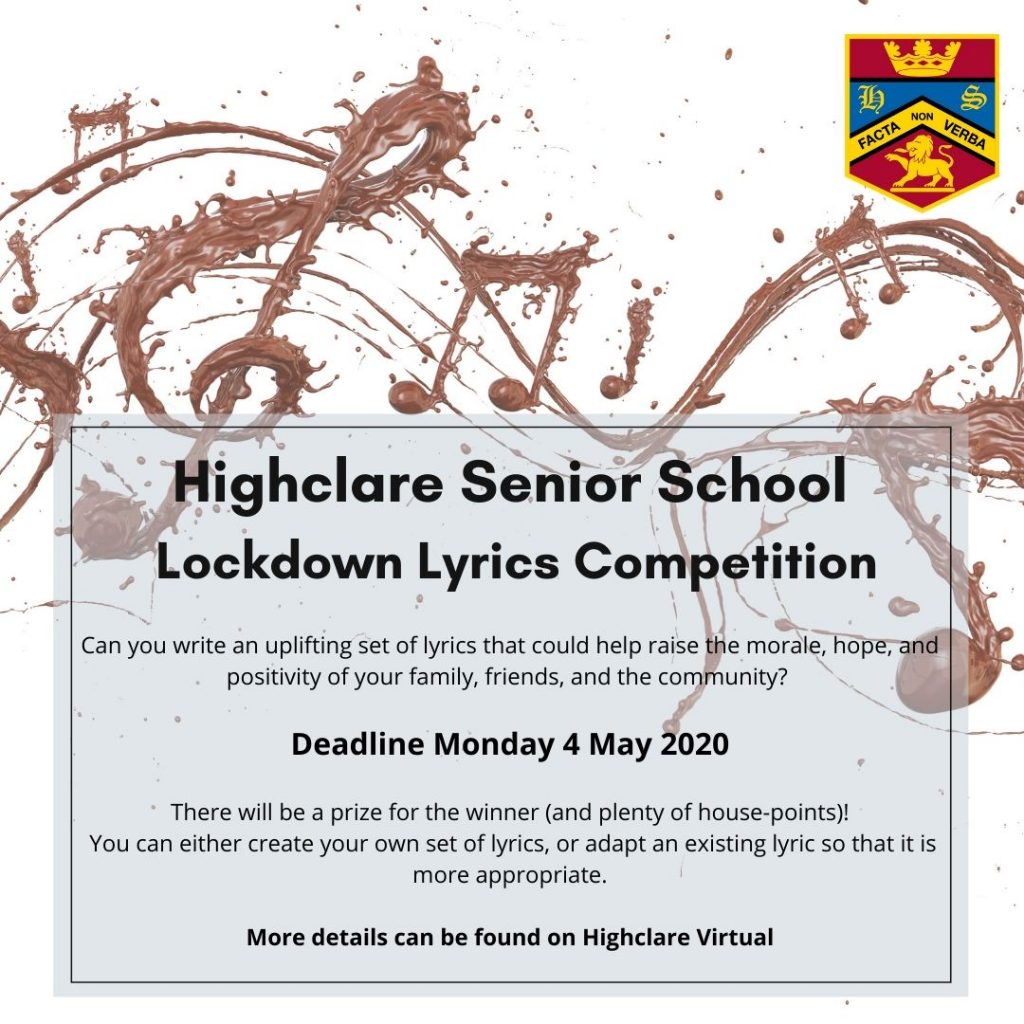 Can you write an uplifting set of lyrics that could help to keep morale, hope, and positivity of your family, friends, and the community as strong as possible during these strange times? There will be a prize for the winner (and plenty of house-points)! You can either create your own set of lyrics, or adapt an existing lyric so that it is more appropriate.
Submit your lyrics to music@highclareschool.co.uk. You do not have to sing/perform them – it can be simply a document that is formatted like a piece of poetry…but even better if you can present how you would like the lyrics to be performed.
Deadline: Monday 4th May (Star Wars day!)
Good luck!
Need some inspiration? You may have heard of the legendary army veteran 'Captain Tom Morgan' who has helped to raise more than 25 million pounds for the NHS by walking 100 lengths of his back garden! He has also recorded an existing song, 'You'll Never Walk Alone', with Michael Ball and the NHS choir to help raise money. It's got to number 1 on the iTunes chart!
Here are the powerful lyrics to the song, and there is also a youtube link to the recording below:
When you walk through a storm,
Hold your head up high;
And don't be afraid of the dark.
At the end of a storm,
There's a golden sky;
And the sweet silver song of a lark.
Walk on through the wind,
Walk on through the rain;
Though your dreams be tossed and blown.
Walk on, walk on,
With hope in your heart;
And you'll never walk alone.
https://www.youtube.com/watch?v=wUP-ty-Tj5E
www.youtube.com

Captain Tom Moore, Michael Ball & The NHS Voices of Care Choir present You'll Never Walk Alone. Download the track here: https://michaelball.lnk.to/NeverWalk…