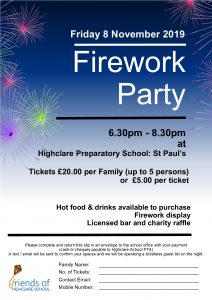 We are incredibly excited to announce the date of the Friends Of Highclare School Firework Party!
Back by popular demand this year's event will take place on Friday 8 November, 6.30pm to 8.30pm at Highclare Preparatory School: St Paul's.
With hot food and drinks available to purchase, an impressive firework display and a licensed bar and charity raffle plus stalls including  glow in the dark toys, candyfloss, toffee apples and pancakes this event has always been hugely popular.  Please note no sparklers are allowed on site.
Tickets are priced at £20.00 per family (up to 5 persons) or  £5.00 per ticket and please remember to buy your tickets early due to limited numbers available.  Please complete the slip found on the Firework Party Flyer 2019 , and return to the school office.  A text or email will be sent to confirm your spaces on receipt of slip and we will be operating a ticketless guest list on the night.
We look forward to enjoying a fantastic evening together.