Highclare Pre-Preparatory School: St Paul's wowed fellow pupils, family and friends during a recent impromptu art exhibition!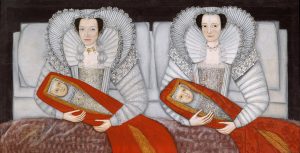 During a topic on babies our Pre-prep pupils created wonderful artwork using The Cholmondeley Ladies, an early 17th century English oil painting, as inspiration.  Pupils concentrated hard and spent time looking closely at the painting which depicts two women seated upright and side by side in bed, each holding a baby.  They created their paintings in small stages adding details over time.
Our mini artists were very proud to see their artwork displayed in the School Hall and it was a pleasure to see their hard-work being enjoyed by the children of the Preparatory School and family alike.
We received some lovely comments from members of the Preparatory school and parents, we would like to thank everyone for attending our exhibition and Mrs Amiss for her hard work supporting the children during this topic.