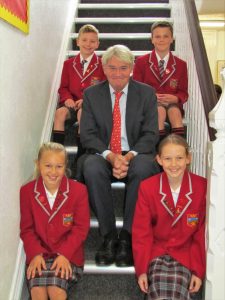 Andrew Mitchell MP recently visited Highclare St Paul's Junior School to speak to J5 and J6 pupils about his role as their Member of Parliament and take part in a quick-fire question and answer session.
Following a tour of the school, Royal Sutton Coldfield's MP spent time with the pupils, speaking about his work as the Royal Town's Member of Parliament and explaining how he represents all of his constituents at Westminster – including children.
He talked about the history of Sutton Coldfield, how the method of communication from its constituents has changed over the years and the international topic of educating children, particularly girls as a global issue.
His young constituents asked a range of interesting questions, from local topics affecting the Royal Town, to international issues such as the conflict in Yemen.  Local topics covered included tackling crime, the future of Sutton Coldfield Police Station and the Royal Sutton Coldfield town council.  Andrew Mitchell MP also answered questions about his route into politics and his thoughts on other topical political issues.
All questions were thoughtfully and eloquently asked and pupils were engaged and interested in Andrew Mitchell MP's responses.  Pupils showed a great aptitude for understanding political issues and the world around them, and showed a maturity and confidence when conversing with an experienced politician.
Question of the day came from a J6 pupil asking the philosophical question 'What is it like to be you?'
Andrew Mitchell MP said "It was a great pleasure to visit Highclare School and meet the very engaged and intelligent older pupils of Highclare Junior School, St Paul's."