Our two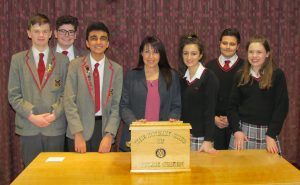 Senior School teams enjoyed great success in the recent Youth Speaks competition, organised by the Rotary Club of Wylde Green in the lovely venue at Pype Hayes Golf Club. 
Two teams, each comprising 3 pupils, spoke for around 10 minutes on their chosen subject and then answered a question from the audience.  Highclare B team, comprising  Annabella Kalavanas , Jessica Bonner and Laith Baldwin, spoke assertively about the idea that the school curriculum should allow pupils more time for specialist subjects and concentrate less on core subjects.   Their speech entitled 'Can a fish climb a tree?' provoked further discussions and was very well presented.     The Highclare A team comprised, Elis Jackson, Samuel Donaghue and Shiven Pattni, and had to prove themselves on the back of their success last year!   This time they asked the question "Is the supernatural just another superstition?" and their lively and dramatic presentation gave them a slight edge, winning the overall prize.
In total 5 teams from schools around Sutton competed in a constructive and convivial atmosphere, with just enough degree of competition to make it entertaining!   A very receptive audience of Rotarians, parents and friends enjoyed a fascinating evening, showcasing some of the thoughts and confident presentations by our very talented young people.
Highclare A Team will now travel to Coventry in March to compete in the District Competition and we wish them every success.